Shrink Wrapping
A PROTECTIVE FILM that is wrapped around an object with ends heat-sealed, then shrunk to form fit the object. IF the object is pliable (NOT rigid) a backing board of cardboard or foam board must be used for support. A quick and inexpensive way for protecting poster art.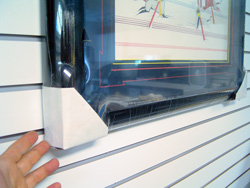 Shrink wrapping can be relatively permanent (if you desire so) or temporary (can be easily removed) as when items need to be quickly protected, highly visible and lightweight.

COMMON APPLICATIONS:
REFLECTIONS PROGRAM ART – Highly recommended to protect artwork from damage.

Inexpensive option to framing with glass. Poster art that is serving for a temporary purpose can be shrunk wrapped. It can be an option in lieu of glass or acrylic in anything hanging in a kid's room or over a chills bed.

Trade Show / Convention props/signs/pictures/etc. that need to be kept clean, lightweight, portable, and inexpensive (or disposable). Velcro is strong enough to hold the product up.

OLD Newspapers and Collectable Paper Art. Keeps the art flat, safe and clean for handling and storage.

ARTIST will want to use shrink wrapping to protect and seal the art from damage in the handling of unframed art in storage bins at art shows.

THINGS THAT WE DO NOT SHRINK WRAP:
GIFT BASKETS and most 3-D objects.

Retail-Type Purchased items will NOT be re-shrunk wrapped if there is any chance that the item could be returned to any store portrayed as new or as an "unopened" product.

Pastel art – unless it for very short-term protection.
Since the shrink wrap film is thin, it will likely have "stretch lines" showing up in the product. There will also be "heat-sealed seams" on the back and/or edges of the finished product. Shrink wrapping is really meant to be a temporary solution and not an ideal replacement for glass in framed pieces.


TURN-AROUND TIMES
Shrink Wrapping is usually done on a while-you-wait basis.